The Secret Vault of the Queen of Thieves – a 3rd level, city-based adventure scenario for Torchbearer RPG by Thor Olavsrud  is now available via the Burning Store in pdf format, featuring cover art by Peter Mullen, interior art by Todd James and cartography by Dyson Logos!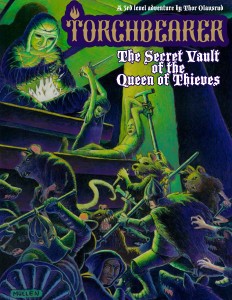 Tamar, secretive master thief of the port city of Highwater, is dead. The rumors say she dropped face-first into a bowl of soup yesterday while supping with her lover, Lady Attar, at the Three of Cups in Saltown near the docks. It happened just days after she stole the fist-sized jewel known as the Jackal's Eye from the sinister Cult of Maata Re, Mistress of Plagues. Her lover has not been seen since.
Amidst the stories of conspiracy and murder, the underworld of Highwater is abuzz with tales of the secret vault of the Queen of Thieves, where Tamar is thought to have kept priceless trophies of her many adventures, perhaps even the Jackal's Eye, along with deadly traps to guard them. The race is on to find the vault; whoever does may become wealthy beyond their wildest imaginings.
The Secret Vault of the Queen of Thieves is a short city-based adventure geared for 3rd level and higher Torchbearer characters, though even lower level characters are viable if played skillfully. It should take a session or two of play. This scenario is set in the port city of Highwater, but you can drop it into your game whenever the characters visit a Bustling Metropolis or Busy Crossroads in your home setting.
This first "official" Torchbearer scenario since The Dread Crypt of Skogenby features fiendish traps, a new monster, a new town for adventurers to hail from and two new town locations – the Docks and the Thieves' Guild!
Purchase PDF for only $5 via the Burning Store, right here: LINK